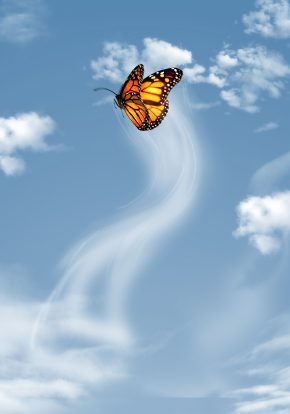 Have you ever had one of those dreams that felt so real that it was more than a dream?
I had one a few weeks ago, shortly before I got up. It was a strange dream. I was with two men. I seemed to be in some kind of military service. We were in a room and knew that an explosion was imminent and we were about to die. I seemed to believe that I would still exist afterwards.
Seconds later, the explosion came. I felt warmth. No pain! Just a warmth on my skin. Then I was in a bright white place that was filled with soft, warm, white light. I remember noticing that I had no form (body). I was also aware that I was on the 'other side' and a little pleased that, even though my body was gone, I was still alive.
Then I heard a female voice whispering to me. It kept saying, over and over again, "Your thoughts create! Your thoughts create! Your thoughts create." Then it became, "Your thoughts create your world! Your thoughts create your world." I remember the whisper so clearly. I can hear it now as I write these words.
I learned later that day that my Dad's aunt Lizzie had died that morning. Might my dream somehow have been a communication from her? I thought so.
I asked my good friend, Kyle Gray. He's 'The Angel Whisperer', a well known, highly accurate Medium, and best selling author of 'Angel Prayers'.
Kyle asked the angels about my experience. He then told me that, because of my sensitive perception, my soul knew Lizzie was passing and it reminded me that, no matter what we way go, we just return to an ever-present love and peace. He then told me that Lizzie was acknowledging what I've known all along, so that I'd have a more personal experience of heaven. He said my mind basically created a scene of going to heaven so I could see that it was all love.
Wow! … was my response. I trust Kyle very much and have been on the receiving end of his astonishing skills of other-worldly communication on more than one occasion. I believe in what he said. It feels right to me.
Some might think that a scientist has no place talking about angels. I would disagree strongly. I do not subscribe to the notion that consciousness is inside the head, nor produced by brain chemistry. Such a notion doesn't account for the wealth of research that demonstrates correlations between the neural states of people separated by a distance. I believe that consciousness is fundamental to reality and that, in a sense then, everything is animated with consciousness.
In some ways, the brain acts like an aerial that tunes to a frequency, that extracts from reality what you know of as yourself.
My belief is that that just as different shapes, forms, textures and colours of life exist, so different shapes, forms, textures and colours of consciousness exist too, some of which we might interpret or know as angels, guides, or deceased loved ones.
Could my Dad's aunt have visited me for real? Her consciousness? I believe so. I believe that after her brain ceased to function, her consciousness was no longer identified with her physical body. She was then able to be anywhere and, in my case, she was able to communicate with me.
Fortunately, I 'heard' her and appreciate the reminder!