Praise for Why Woo Woo Works
David has done a stellar job in gathering the science and philosophy behind a range of seemingly woo-woo subjects.
Vex King
A delightful and inspiring read!
Dean Radin
Chief Scientist at the Institute of Noetic Sciences
We now realise that alternative therapies and Western methods can be used together to reach a state of lasting wellness.
Deepak Chopra
If medical students and sceptics everywhere were required to read this book, the world would be a more harmonious place.
Kelly Noonan Gores
Director and Executive Producer of HEAL documentary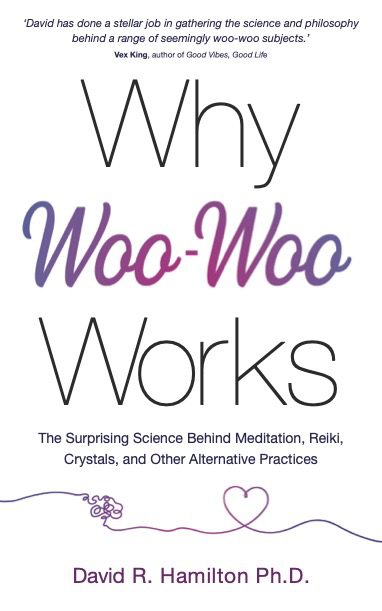 Published (Sept 21, 2021). Alternative therapies, healing modalities, and spiritual practices are often referred to as 'woo-woo'.
In this book, I take a range of subjects that are typically denounced as 'woo-woo' and show that there's actually a lot of science in support of them, but that it's largely known only to those working in the relevant field.
You'll learn how belief can heal, how visualisation works, how different styles of meditation impact the brain in different ways, the link between personality and disease, how nature can speed up healing, how reiki and other biofield therapies work and the scientific studies on them, the multiple studies in support of psi (telepathy, distant healing, prayer), and explore whether consciousness is inside your head or a part of nature itself.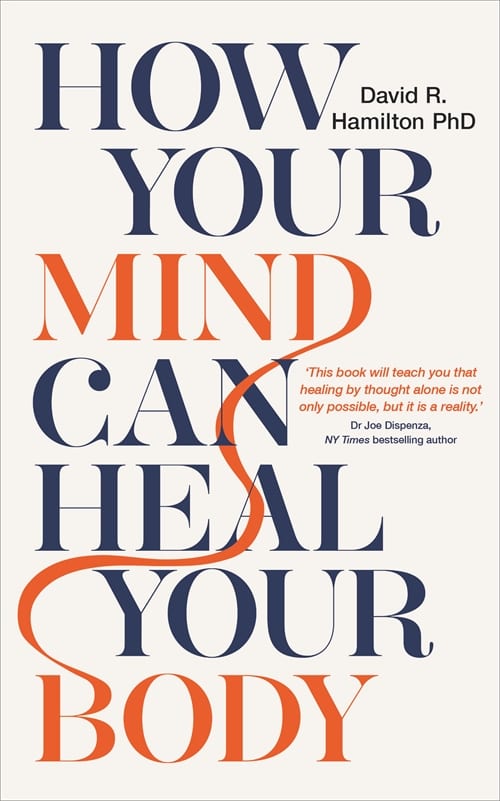 Published (2008, 2018). Learn all about the mind-body connection and how to harness it. In this book, former R&D scientist, David Hamilton explains how the placebo effect works, how meditation impacts the brain, even how visualisation alters brain circuits and impacts the body. The book also shares examples of visualisation strategies used by people around the world to help facilitate their recoveries from injury and illness and teaches the principles involved. The book also contains an A-Z list of visualisation examples for targeting a wide range of conditions.
Published (2019). In this beautifully illustrated book, you will learn all the ways that kindness impacts mental and physical health, from how kindness boosts happiness, can be an antidote to depression, even to how 'kindness hormones' can reduce blood pressure and slow ageing. The book is suitable for adults and teenagers, and some adults like to also discuss it with their younger children.
This book is a shorter, illustrated version of the main subjects covered in 'The Five Side Effects of Kindness'.
Published (2017). In this book, you will discover all the ways that kindness impacts mental and physical health. Learn how kindness boosts happiness, can be an antidote to depression, how it generates the physiological opposite effects of stress, and how it impacts the brain in specific (and beneficial) ways.
You will also learn how how 'kindness hormones' can reduce blood pressure, improve the health or blood vessels, and slow ageing in several ways.
The book also discusses the impact of kindness on relationships and how it is highly contagious.
Published (2015). Learn multiple strategies for improving your self esteem / self love - that is, for gaining an inner sense of worthiness and value.
You can try any or all of the 21 exercises in the self love gym or simply gain from the insights and strategies, most of which are backed up by science.
You will learn how to use posture to 'wire in' greater self love, how to use visualisation, how to be more self compassionate and less self critical, how to embrace vulnerability, how to forgive yourself (and others) and how to take steps towards a healthier future.
Published (2012). Learn about the seeming interplay between destiny and free will. In this book, David Hamilton discusses seeming 'forces of destiny', like chronobiology (how cosmic cycles impact biology) and epigenetic (how experiences of previous generations can impact your health), and discusses spiritual  ideas around pre-birth life choices.
David also discusses how conscious choices and actions can shape the outcome of our lives.
Published (2012). This book expands on the teachings and interviews from the documentary film, Choice Point, produced by Harry Massey.
The book features words from several authors and change makers, including Sir Richard Branson, Archbishop Desmond Tutu, James Caan, Dr Scilla Elworthy, John Paul DeJoria, Gregg Braden, Dr David Hamilton, and many others.
Published (2011). Learn about 'emotional contagion' - how we catch emotion from others. Learn how it works, how to enhance it when presenting and communicating with others, and how to protect yourself from catching negative emotions from others.
Also learn how happiness, sadness, loneliness, obesity, and even marriage and divorce can spread through social networks out to three social steps.
Published (2010). Learn all the research that shows how kindness impacts mental and physical health (now updated in The Five Side Effects of Kindness). In this book, you will also learn how compassion can impact the brain and generate anti-inflammatory conditions in the body, how empathy impacts the brain, and even how children need love for optimum growth.
This book also shares research on the link between gratitude and happiness, and why forgiveness can be good for mental and physical health.
Published (2007). In this subtle fusion of science and spirituality, learn about the interplay between destiny and free will. Learn about spiritual ideas around pre-birth choices, how consciousness might transcend space and time, and how there may be subtle forces that guide some of the events and circumstances of our lives.
Published (2005, 2006). In this first book by David Hamilton (originally self published), you will learn about the mind-body connection and the mind-world connection.
David explores the placebo effect, meditation, visualisation, healing touch, vibrational medicine, consciousness, the nature of mass events, and the existence of the soul.