I've written a lot about the "side effects" of kindness. There's five of them: Kindness makes you happier, it's good for the heart, it slows ageing, it improves relationships, and it's contagious.
There's talk sometimes where people say there is no truly altruistic act, that if you benefit from kindness then you're being somewhat selfish and you're therefore not doing it for the right reasons. It's almost as if for a kindness to be pure, we have to suffer by doing it.
To be honest, I try not to get too weighed down with the academic debates about altruism. My opinion is that nature has built into us, that is, we have evolved, a system that encourages us to be kind for the right reasons, because being kind is the right thing to do.
I call it Nature's Catch 22.
Here's what I mean. The health-related side effects of kindness only occur because of how being kind makes you feel. That's the key. It's the warm feelings that come with kindness that release the kindness hormone, aka, the cuddle chemical, the hugging hormone, the love drug, or formally, oxytocin, a 9 amino acid-long hormone. It impacts not only brain circuits that make us feel connected, trusting, and happier, but it also acts on blood vessels to lower blood pressure and serves as a potent anti-oxidant too.
Therefore, you can only benefit from an act of kindness if you mean what you do. Why? Because you have to mean it to feel it! I'll say that again. You have to mean it to feel it. And only by feeling it do you release oxytocin. To generate the kindness hormone and receive its benefits, your act of kindness must be real, honest, heartfelt.
It's the feelings that generate the positive effects. Just as feelings of stress create negative effects in the body (and produce stress hormones), so feelings associated with kindness thus create positive effects.
So, a person trying to make themselves happier or improve their cardiovascular health by doing some half-hearted acts of kindness is futile. Of course, on one hand it still benefits the other person so that's a good thing regardless, but there is no benefit to themselves because they didn't mean what they were doing.
Perhaps I have side-stepped some of the altruism debate, but I believe that most of us are genuinely moved by the pain or suffering of others, and this makes our acts of kindness genuine.
I believe we have evolved to feel compassion, we have evolved to care, and as a result, we have evolved to be kind.
Nature's Catch 22 has ensured it.
Our ancient ancestors who were kind for the right reasons derived more health benefits and were therefore more likely to survive and pass their genes onto the next generation.
So, we have evolved to mean it when we're kind and to feel how it feels when we're kind. And as a result, we receive the side effects of our kindnesses.
---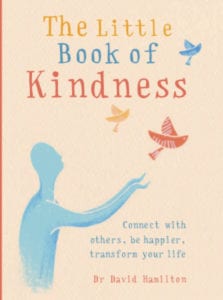 My new book, 'The Little Book of Kindness' (Gaia, Feb 2019) is due to be published on 7th Feb. I'm offering a FREE 4-lesson online course (on The Biology and Contagiousness of Kindness) to everyone who pre-orders the book before 7th Feb (pre-order quantities are used by booksellers to make decisions whether to stock a book or not). You can check out the free course HERE.
And you can pre-order the book from:
Amazon UK (Flexibound) Amazon UK (Kindle)
Amazon.com (Flexibound) Amazon.com (Kindle)
Amazon.ca (Flexibound) Amazon.ca (Kindle)
Amazon.com.au (Flexibound) Amazon.com.au (Kindle)
Barnes and Noble (Flexibound) Barnes and Noble (Nook)
Waterstones